If valentines bring excitement, romance and surprises then for some people it brings rejection as well. They start with planning best things to make their partner "awww" and expecting approval in return but sometimes it doesn't work which make them feel guilty about the fact, "Why we did this stupidity".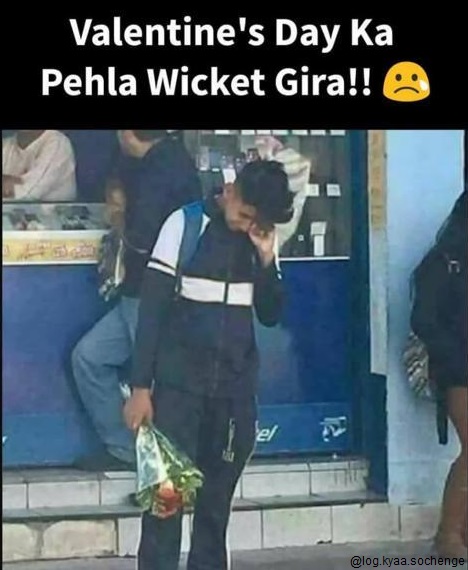 Hum kaun hote hai hasi udane wale but what made you positive that he or she too like you. Now it is not important that if you like someone then they also must be having the same feelings about you. We know it sucks getting the rejection on the day of celebrating love. Today I have come with the feelings that people go through when they get a rejection on the biggest day of love...
"Yeh kya ho gaya":
People take minutes to realize about what really happened with them? They get to the urge of declining the truth about they have been rejected by the person who was close to them from the last few days. Poor lads...
"Woh insaan toh gaya saath mein mere paise bhi":
Then comes the point when they finally accept the fact about being rejected but they feel disheartened about their money to get wasted. "baat toh sahi hai, itni investment lagayi par return na mila"...
"Doston se bhi khili udwao":
Rejection mila toh mila, paise gaye toh gaye lekin but when it comes to facing our loving friends then you only wish to disappear from the world because they won't console you or maybe they do for few minutes but after that they will laugh on you and mock you for rest of your life that will make your life hell.
Tension about dusri/dusra kaha se laye ab:
Then comes the point when they have finally accept the truth, they cried for their money get wasted and doston se bhi Mazak udhwa hi liya. Now it turns of feeling blue about "ek itni mushkil se mili thi, now where to get another date". I seriously pity you guys but don't worry, kahi na kahi koi toh hoga jise bhagwaan ne tumhare liye banaya hoga...
Trying not to let this go viral:
You told your friends, it is normal but when it goes viral then it's become difficult to face your socializing group because now they would have a reason to laugh on you and then people would have gossip to share with their friends. "Delhi waise bhi rumors se hi chalti hai, ek baat ki 100 baatein banane mein maza aata hai"...
Last but not least, you would worry about what your future partner will think of you:
You will worry about if they too would make fun of you or they will just ignore it because everyone would eventually have a life partner, no one can ever keep secrets from them and especially when it comes to relationships. So in the future, your gang would have plus one to make fun of you (nightmare).
Don't lose hope people, wait for your Mr. or Ms. Right. They are somewhere in this world waiting for you as you are waiting for them and you will meet them when the time would be right.
...